Wisdom Tooth Extractions – Santa Clarita, CA
Say Goodbye to Your Third Molars
Wisdom teeth are also referred to as your third molars and live toward the back of your mouth. Once necessary for early humans to eat denser foods, they no longer serve a purpose because of the narrowing of the jawbone over time. Not to mention, food has become more nutrient-rich and less dense. At A New Smile Dental, Dr. Ramtin and our team can perform wisdom tooth extractions to eliminate unnecessary teeth from the mouth and improve the state of your oral health. Call us to find out if you or your teen might be ready for this kind of tooth removal.
Why Choose A New Smile Dental for Wisdom Tooth Extractions?
Sedation Dentistry Available
Safer Digital X-Ray Imaging
We Welcome Your Dental Insurance
The Wisdom Tooth Process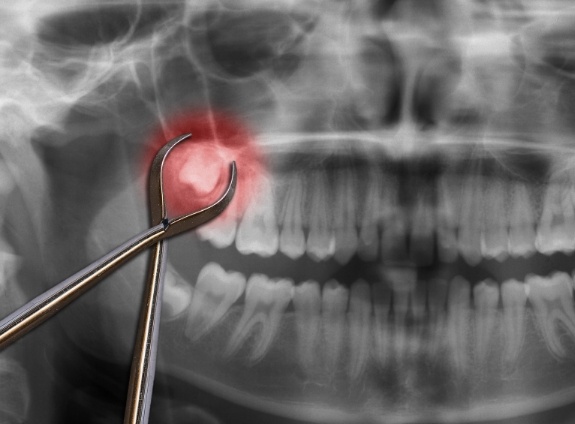 When meeting with your dentist to discuss wisdom tooth extractions, diagnostic imaging will help to produce high-resolution images for clearer, more accurate treatment planning. Once it is decided that you will move forward with treatment, we will determine if you require a simple or surgical procedure.
Simple procedures are recommended when wisdom teeth have partially erupted and can be completed using specialized tools that are designed to elevate the tooth from its socket so it can easily be removed. A surgical procedure requires a more invasive approach that involves making an incision in the gums to expose the impacted wisdom tooth. With careful movement, the tooth is then removed in pieces to ensure a safer and more comfortable process.
When finished, the sockets are closed, and clean gauze is used to stop any bleeding. You will receive detailed instructions that are to be used to avoid dry sockets and ensure effective healing.