Children's Dentistry – Santa Clarita, CA
Helping Young Smiles to Grow Strong
At A New Smile Dental, we are pleased to have a dedicated dentist who is skilled and experienced in treating children's smiles. Focusing on their oral growth and development, we can easily monitor their teeth, gums, and bites to ensure that they remain on track as they approach adolescence and eventually, adulthood. Offering an array of children's dentistry services, our team is committed to helping your little one feel comfortable and safe while in our care as well as excited about the future of their smile. If you're ready to schedule an appointment for your child, call us today.
Why Choose A New Smile Dental for Children's Dentistry?
Dedicated Dentist Who Treats Young Smiles
Nitrous Oxide Available for Nervous Patients
Compassionate & Caring Dental Team
Dental Sealants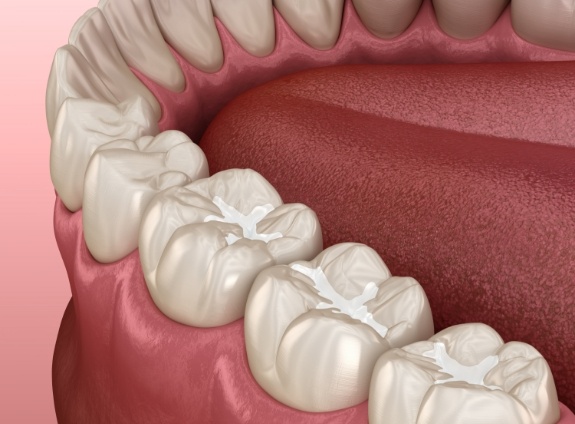 A child's molars and premolars are often the hardest to clean because they live so far back inside the mouth. If neglected as part of the cleaning process, they can trap bacteria and food particles that are known to cause tooth decay and cavities. Fortunately, with dental sealants, these clear coatings can be applied during their general checkup, creating a barrier between the tooth enamel and any harmful particles. If properly maintained, sealants can last a decade or longer.
Silver Diamine Fluoride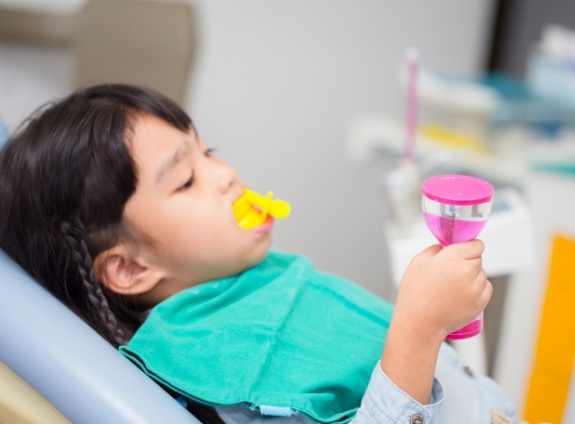 When a cavity occurs, but your little one may not be ready for a tooth-colored filling, there is another option – silver diamine fluoride (SDF). When placed over the cavity, it creates a seal that serves a few different purposes. Not only does the silver help to stop the spread of decay, but the fluoride works to strengthen tooth enamel. The process is quicker than receiving a tooth-colored filling and can be beneficial for children who struggle with more extensive restorative care.
Pulp Therapy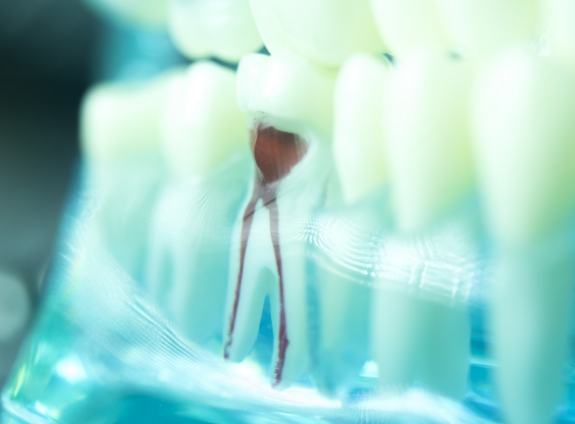 Pulp therapy is similar to an adult receiving a root canal. When damage or decay reaches the innermost layer – the pulp – it can cause extreme pain and the potential for worsening symptoms that affect more than just your child's smile. With our help, your little one can achieve relief from serious discomfort when receiving pulp therapy. By clearing out the damaged pulp, we can seal the tooth and have a customized dental crown placed on top to help strengthen the structure and reduce the risk of future reinfection or harm.
Nitrous Oxide Sedation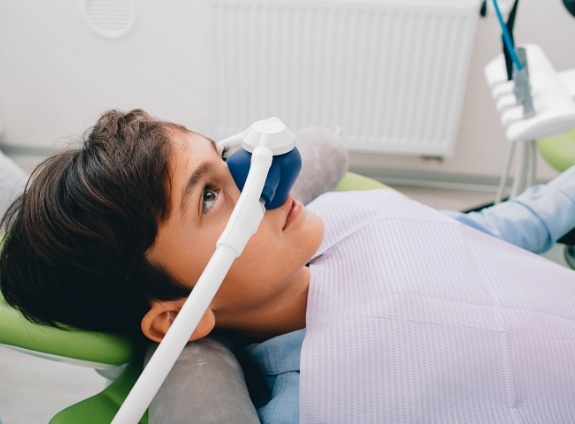 Nitrous oxide is known to be the mildest form of sedation and is perfectly safe for children. When meeting with our dentist, we can go over the benefits of this type of sedation as well as the status of your child's oral and overall health. Most patients are good candidates for treatment, especially if they suffer from mild or moderate dental anxiety. In using nitrous oxide, we can minimize any fears and instead, create a more comfortable environment that promotes better oral health and a more positive outlook on regular dental visits.