Dental Implants – Santa Clarita, CA
When Permanence Meets Perfection
Many tooth replacement solutions only replicate the look of your smile, but only dental implants can rebuild the complete tooth structure. As an implant dentist in Santa Clarita, Dr. Ramtin is pleased to provide in-house dental implant placement and restoration for patients suffering from tooth loss. When faced with the reality of missing teeth, these permanent prosthetics can deliver top-of-the-line results that can last a lifetime. Call us if you are interested in learning more about dental implants and what they can do for you.
Why Choose A New Smile Dental for Dental Implants?
Start-to-Finish Dental Implant Placement & Restoration
No-Mess Digital Impression System
Dentist with Advanced Training & Expertise
What are Dental Implants?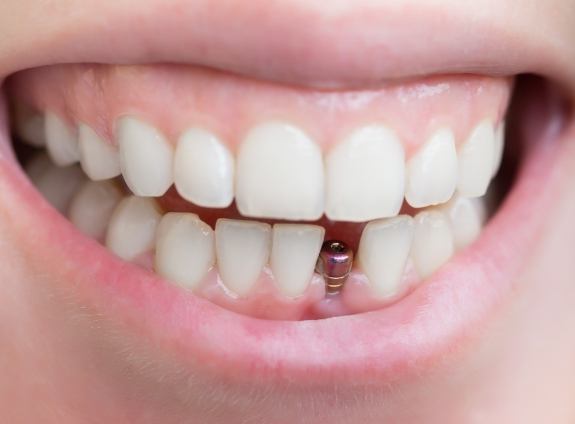 Dental implants are titanium posts that look like small screws. Positioned within the jawbone to replicate tooth roots, they fuse with the bone tissues over several months before creating a firm foundation for new teeth. When topped with a customized implant crown, bridge, or denture, you can enjoy a complete smile that will last a lifetime with proper care.
The 4-Step Dental Implant Process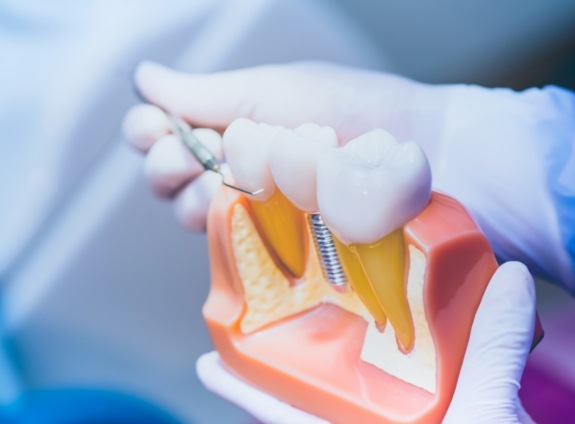 Initial Dental Implant Consultation – In your meeting with Dr. Ramtin, he will go over your candidacy for treatment by evaluating your oral and overall health as well as your jawbone density. If necessary, you'll be recommended for preliminary treatment that can include bone grafting, tooth extraction, or periodontal therapy.
Dental Implant Surgery – Dr. Ramtin is an implant dentist who can perform the entire procedure in-house by administering local anesthesia and making small incisions in your gums. After placing each dental implant post into its proper location, he will close the gum tissue and send you home.
Dental Implant Osseointegration/Abutment – You will spend the next 3-6 months recovering and allowing the implant post and bone tissue to fuse in a process known as osseointegration. You'll then return to our office after you've healed to receive your metal abutments that sit on top of your implants.
Delivery of Dental Implant Restoration(s) – The last step in the dental implant process is to receive your custom-made restoration. This may be a crown, bridge, or denture depending on how many teeth you had replaced.
Benefits of Dental Implants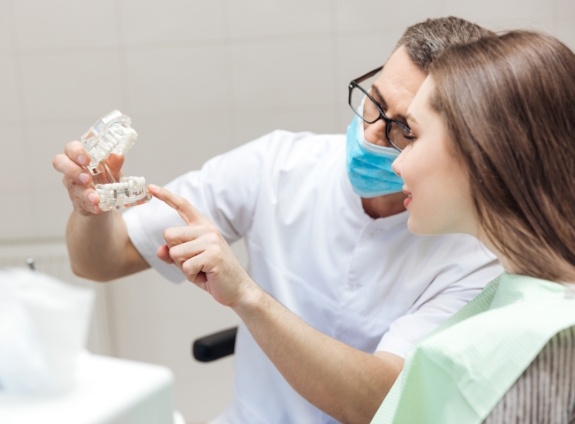 The benefits of dental implants are endless, but to help in your decision to choose this type of tooth replacement, some of the most common advantages you can expect include greater jawbone stimulation, longer-lasting prosthetics that can remain in place for a lifetime, the ability to eat your favorite foods, greater speech clarity, reduced risk of systemic health issues commonly linked to tooth loss, and even a more cost-effective solution as opposed to dental bridges or dentures.
Who Dental Implants Can Help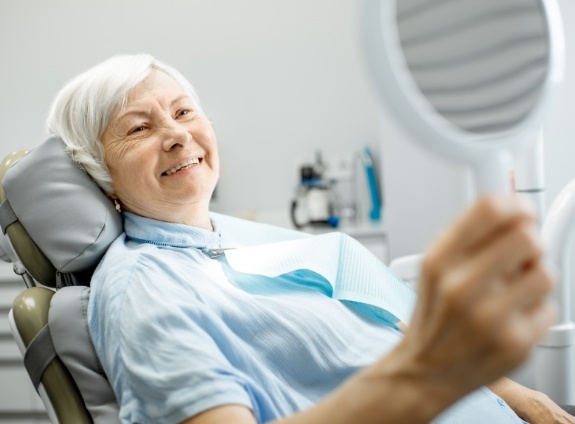 If you are an adult who has suffered from tooth loss, there is a good chance you are a candidate for dental implants. No matter how many teeth you are missing, these prosthetics are versatile in being able to restore your smile and confidence. While a thorough consultation is required, it may be that you need to undergo further treatment before receiving dental implants. Your initial consultation will help to determine how to proceed, and which type of restoration is best for your needs:
Missing One Tooth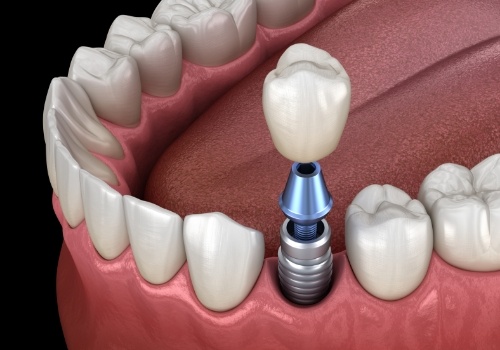 With more than 120 million people missing at least one tooth in the U.S., we can replace a single tooth with one dental implant, a metal abutment, and a customized implant crown. This allows you to resume eating your favorite foods while also enjoying greater confidence in your appearance.
Missing Multiple Teeth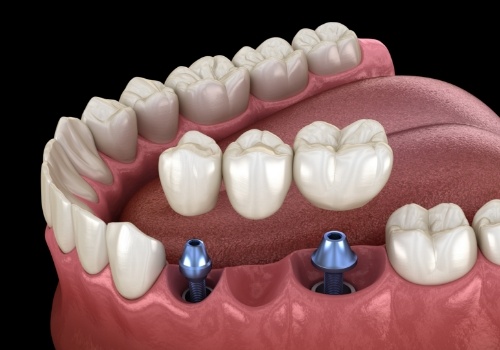 When two or more teeth are missing, we can suggest an implant bridge that is similar to its traditional fixed counterpart. The main difference is that instead of altering healthy abutment teeth to serve as anchors, we can place two dental implant posts into the vacated sockets before securing a customized bridge on top. Not only does this offer continuous jawbone stimulation, but it also fills in the gaps of your smile for a more aesthetically pleasing appearance.
Missing All of Your Teeth
An entire row of missing teeth can now be replaced with 4-6 dental implant posts and a custom-made implant denture. Allowing you to eat all your favorite, nutrient-rich foods while also improving your speech and aesthetics, you can enjoy fully functional teeth that last a lifetime with proper care.
Understanding the Cost of Dental Implants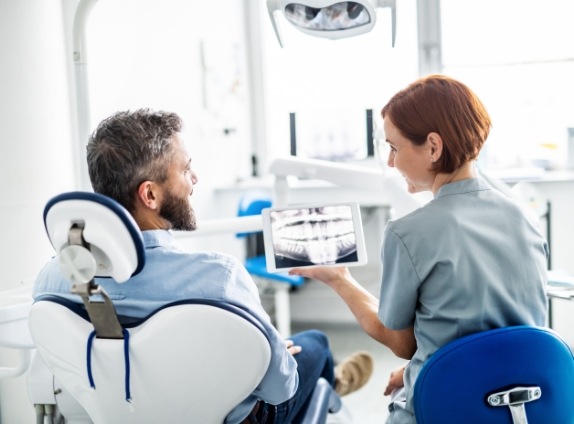 The cost of dental implants is determined during your initial consultation with our team. It is during this visit that we will examine your smile and determine the various factors that must be considered when creating a cost estimate. No matter the official number provided, we will work with you to maximize your dental insurance benefits so that your out-of-pocket expenses remain low.