Root Canal Therapy – Santa Clarita, CA
Eliminating the Infection For a Pain-Free Smile
Are you nervous about the idea of undergoing root canal therapy? You're not alone. Many patients worry that the procedure will cause more pain, resulting in regret. The truth is that root canals don't cause pain but instead eliminate it by removing the infected or damaged pulp. Consisting of various nerves and blood vessels, it is highly sensitive and can create much pain if hindered in any way. By performing a root canal, our in-house endodontist, Dr. Payman Kakoli, can help you not only feel better but maintain a natural tooth structure that will strengthen in the years to come. Learn more about root canal therapy by calling us today.
Why Choose A New Smile Dental for Root Canal Therapy?
Endodontist On Staff
Advanced Dental Technology
Enhanced Imaging for Greater Accuracy
What Happens During a Root Canal?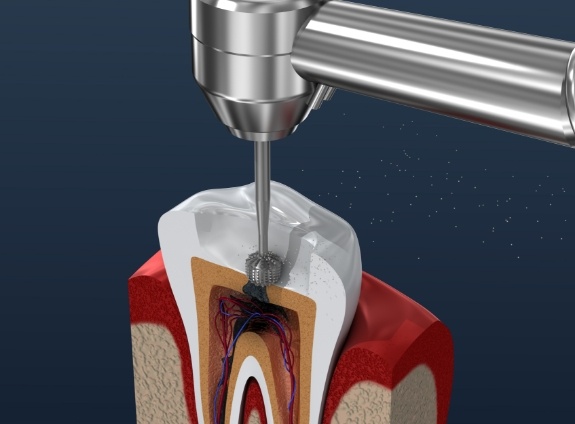 To start, Dr. Kakoli will administer local anesthesia to ensure your comfort. We will then isolate the tooth using a dental dam. When ready, he will make a small opening in the crown of the tooth before going in to clear away the infection or damage. This means not only removing the affected pulp but also cleaning out nearby canals.
Once this is complete, we will rinse out the tooth to remove any remaining debris before filling it with a solution known as gutta-percha. Once the tooth is sealed, we will put a temporary crown into place while a finalized restoration is made. Because it can take several weeks before receiving your permanent crown, you'll need to follow any instructions provided to you by our team to keep your temporary crown in place.